Last Sunday 30 May, as part of South Australia's History Festival, a new interpretive walking trail at Milang on the Fleurieu Peninsula was officially launched by Member for Mayo, Rebekha Sharkie MP. An initiative of the Port Milang Railway Museum, the trail was funded by the History Trust of South Australia through our Museums and Collections (MaC) program.  This is a development and funding program for community museums and historical groups that manage collections.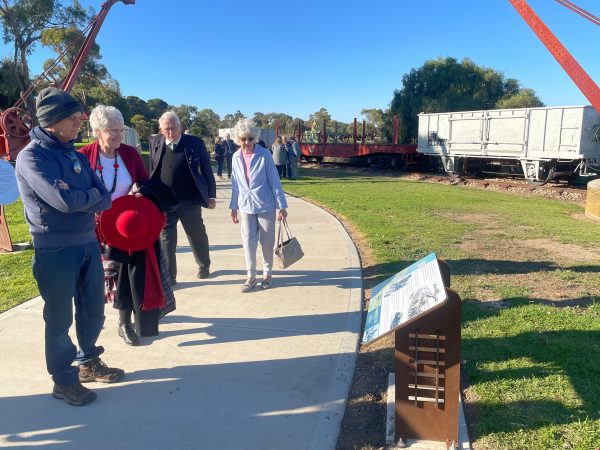 The History Trust's Community History Officer Pauline Cockrill was delighted to cut the ribbon and meet champion Clydesdale Wheelabarraback Hugh Barry aka Harry who, with his owner Mike Connell of the SA Working Draught Horse Association, took the lead along the new trail down to the jetty.  Harry was taking the part of Nuggett after which the trail is named.  Nuggett was the last horse that was used for over two decades, until his death in 1934, to transport goods to and from the jetty.
In the form of ten signs constructed along the 400m route from the railway station to the jetty, Nuggett's Trail tells the story of the tramway. The jetty was built in 1856 and for many years horses were the motive power to convey goods, later replaced by a 1923-4 Chevrolet car until the tramway was removed in the 1960s.
The Port Milang Railway Museum is free and open from noon to 4pm at weekends, with Devonshire teas and free train rides available on Sundays.